We use cookies
By using this website, you agree to our use of cookies. We use cookies to provide you with a great experience and to help our website run effectively.
Learn more
Got it
Enchanting. Spectacular. Magical. Croatia is a country spoiled by the natural beauty of cascading waterfalls and impossibly blue seas, set against medieval castles and ancient walled villages. It's a country so diverse that it's tough to describe in a nutshell. Forests, mountains, islands, reefs, and a sea that's so blue that some astronauts have described it as the bluest in the world. Add to this well-preserved ancient towns and stone-built villages populated by friendly locals and great Mediterranean food and there's no wonder why many people call this country Europe's best kept secret.

Our 11 days here in Croatia are spent getting right in there and experiencing the best nooks and crannies of it! We'll stay within the walled town center of Split, surrounded by all the ancient beauty. We'll island hop over to the cosmopolitan island town of Hvar for a few days of gorgeous island life. We'll find out why Dubrovnik was chosen as the set of so many Game of Thrones episodes, and maybe even take a trip out to Montenegro. And we'll start the trip in the capital and largest city of Zagreb with plenty of unique museums and nightlife - a perfect place to start your Croatia adventure.

Being a relatively small country means spending less time in a bus/boat on travel days between all of the diverse destinations and more time out there soaking it all in! Ready to find out more about this 11-day experience in Croatia? Check out the links below for a tonne of info, then contact us if you've got any questions. See you in Croatia!
We don't like staying in smelly shacks on our vacations and we're pretty sure you don't either! You work hard to go on vacation and we believe you deserve an enjoyable, comfortable place to wind down at the end of each day. We put a LOT of time into finding the perfect accommodation for your trip. After rigorous wifi signal testing, fluffing pillows, and taking a shower or two, we've narrowed down our favorite properties. Check out our approved accommodation to see where we've stayed in the past and where we'll likely be staying on your trip.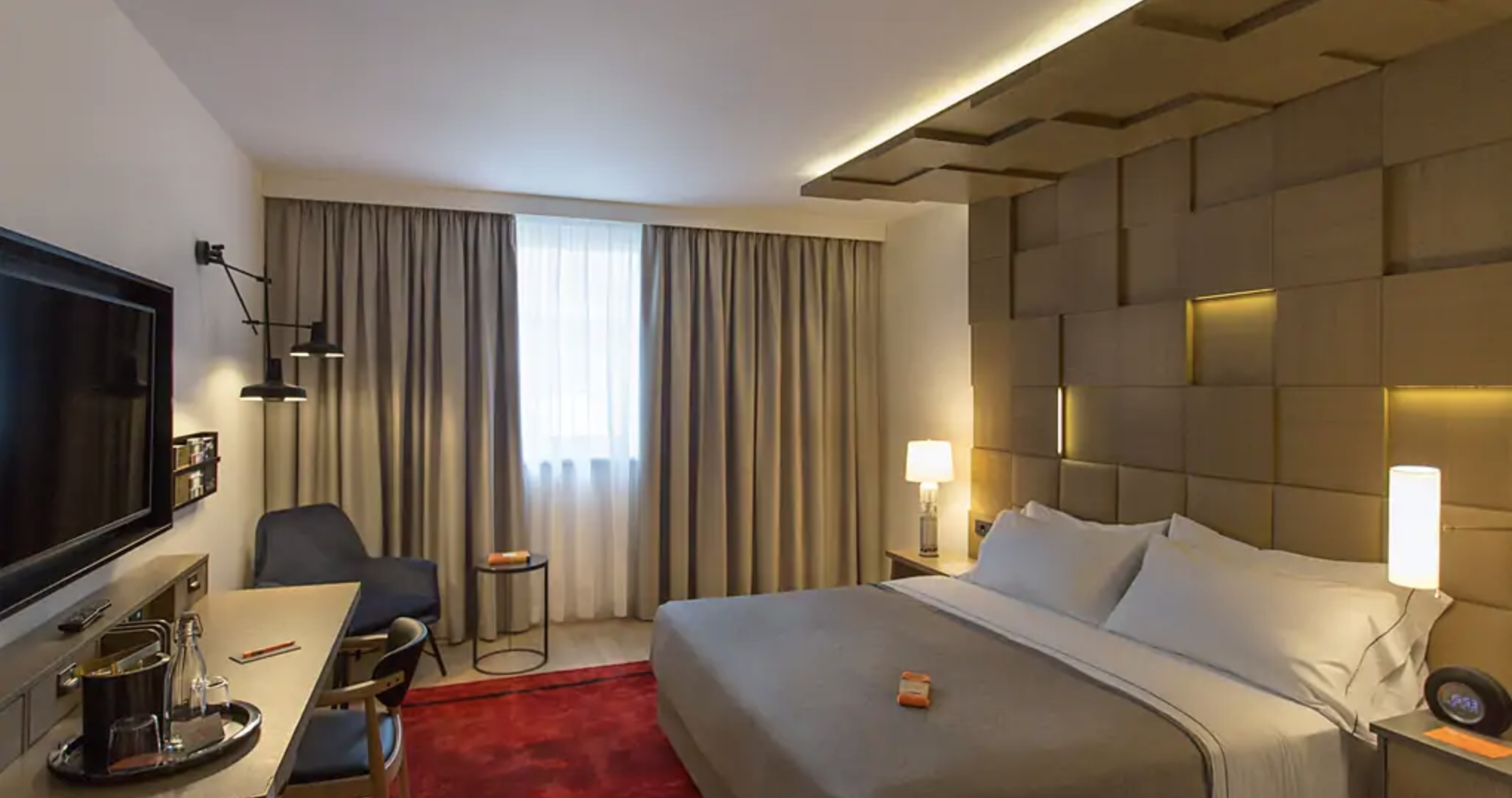 ZAGREB: Canopy by Hilton (City Centre)
Mere minutes from Glavni train station, this refined hotel in the city center is under 2 km from the bustling Ban Jelačić Square, filled with museums and restaurants. These beautiful rooms offer free Wi-Fi, flat-screen TVs and sitting areas, as well as minifridges and Nespresso machines. Amenities include a local restaurant, a gym, and a vintage-chic cafe.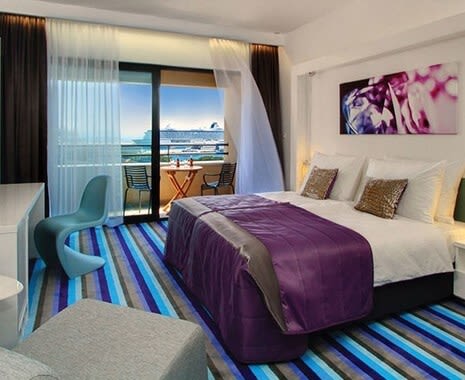 SPLIT: Cornaro Hotel
Overlooking the Port of Split on the Adriatic Sea, this unique hotel is minutes from the 4th-century Diocletian's Palace and to Bačvice beach. Eccentric rooms have colorful, contemporary decor and provide minibars, free Wi-Fi and flat-screen TVs and safes. The spa offers a sauna, a hot tub and a gym.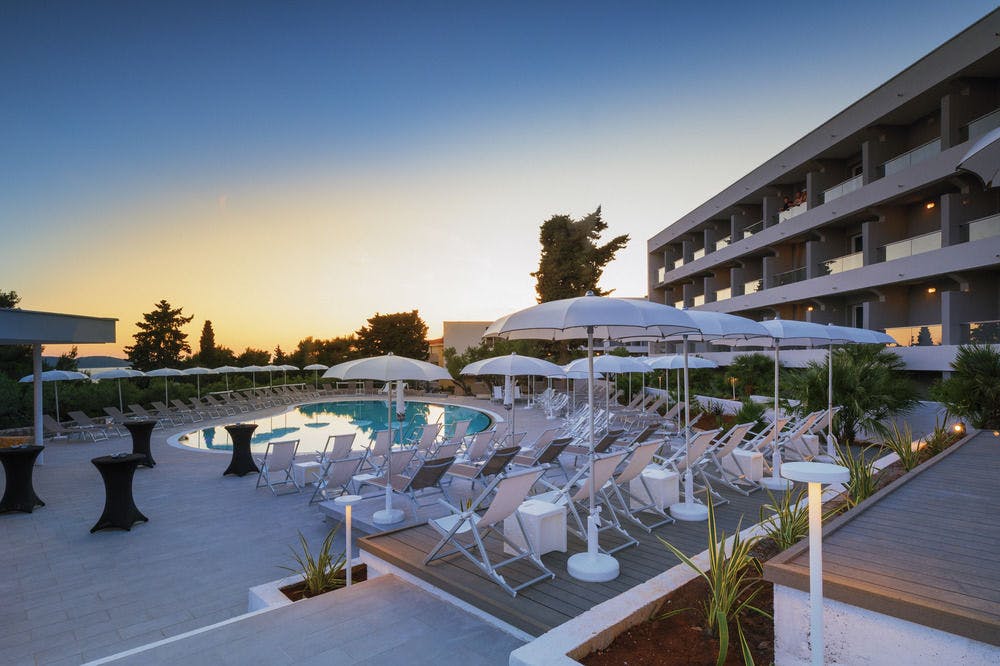 HVAR: Hotel Pharos
Offering views of the Mediterranean Sea, this informal hotel is situated minutes from Hvar Cathedral and Španjola Fortress. Modern rooms and suites feature free Wi-Fi, flat-screen TVs and safes. Other amenities include an outdoor beachclub with a gorgeous pool, 2 bars and a restaurant.
DUBROVNIK: Hotel Lero
This contemporary hotel is only 4 minutes from Bellevue Beach and is one of the closest hotels to Old City and the medieval Walls of Dubrovnik. Additional amenities include an outdoor pool, a spa area with fitness room, a sauna and a steam room.
*Please note that due to availability, these exact hotels may not all be available during all Detours trips. However, we will always replace these with similar hotels, and will never downgrade.
What's included? • All taxes • All land and boat transfers within Croatia • Accommodations for your 11-day Detours experience • Afternoon exploring Plitvice National Park including park entrance • City tour of Zagreb with local guide • All full breakfasts • Group travel within Croatia • Welcome dinner • Knowledgeable and fun Detours leader •
What isn't included? • Meals and drinks outside of those listed above • Activities outside of the those listed above • International Airfare • Optional gratuities •
Additional spending budget? Your big-ticket items are included through the trip, but you'll want to budget for additional spending such as additional meals, drinks, shopping, activities, etc. These costs can vary dramatically with differing personal habits but we suggest expecting to spend an additional $700 USD at the lower end for the more budget-conscious and $1200 USD at the higher end for the splurgers. We suggest arriving to Croatia with approximately 2,000 local Croatian Kuna.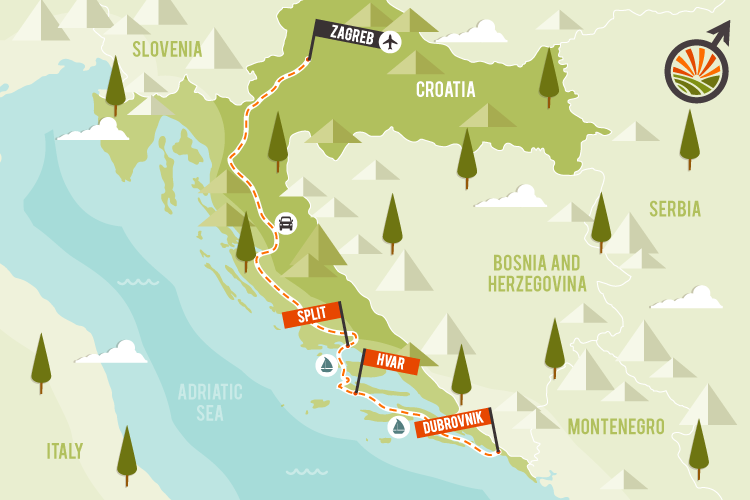 Register Now
with a $500 USD deposit