We use cookies
By using this website, you agree to our use of cookies. We use cookies to provide you with a great experience and to help our website run effectively.
Learn more
Got it
2022: 12 Days in South Africa
A country of undeniably unique experiences, where it's possible to be in the presence of giraffes and hippos before breakfast is even served. Where by lunchtime you can have the surreal experience of being surrounded by hundreds of little penguins. Dinner comes with a glass of world-class wine, enjoyed on the patio of that very vineyard that produced it. South Africa is the country of wide open safaris with far more than just the "big 5", underwater dives with great white sharks, white sand beaches that quickly morph into imposing mountains before fading into wide open plains.
A real experience in Africa sparks not just all five senses, but also imagination and emotions quite unlike any other place you'll experience. Nature has been more than generous to this place, visible as much in its landscape, as in its wildlife at every turn. History has been tumultuous to say the least, emerging in recent years as a world leader in social progress and tolerance. Local South Africans have been rebuilding a country to be proud of, while creating museums and monuments to ensure the past won't be forgotten.
Our 11-day experience through South Africa guarantees to showcase this country in all its glory. From the cosmopolitan, postcard-perfect city of Cape Town, to the expansive country estates of the Winelands, to the world famous safaris of Kruger park, before finishing in the big, busy metropolis of Johannesburg.
Looking for 2023 South Africa trips? Click here.
We don't like staying in smelly shacks on our vacations and we're pretty sure you don't either! You work hard to go on vacation and we believe you deserve an enjoyable, comfortable place to wind down at the end of each day. We put a LOT of time into finding the perfect accommodation for your trip. After rigorous wifi signal testing, fluffing pillows, and taking a shower or two, we've narrowed down our favorite properties. Check out our approved accommodation to see where we've stayed in the past and where we'll likely be staying on your trip.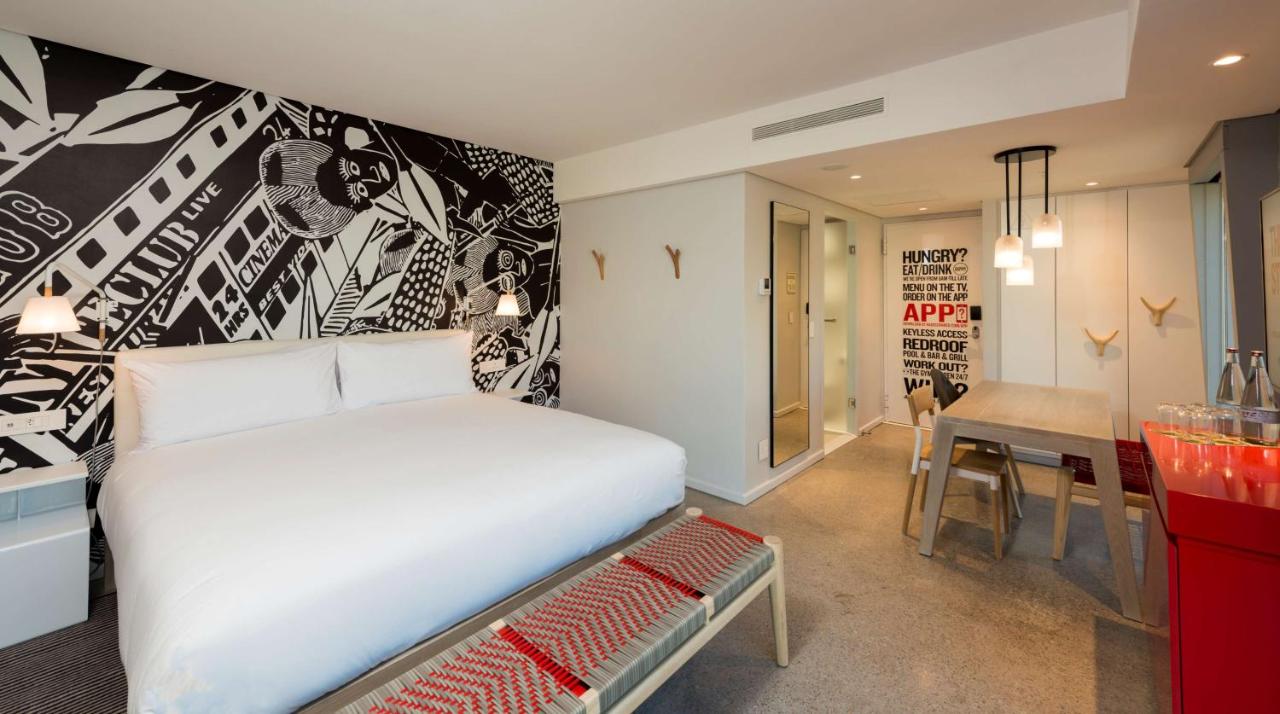 CAPE TOWN: Radisson Red, V&A Waterfront
Conveniently located at the edge of the iconic V&A Waterfront, the Radisson Red is a new addition to this vibrant area, full of the city's best shops and restaurants. Featuring contemporary rooms with free Wi-Fi, flat-screen TVs and safes. Room service and in-room spa treatments are available for a fee. There's a casual restaurant and a bar. Other amenities include an rooftop outdoor pool and an exercise room.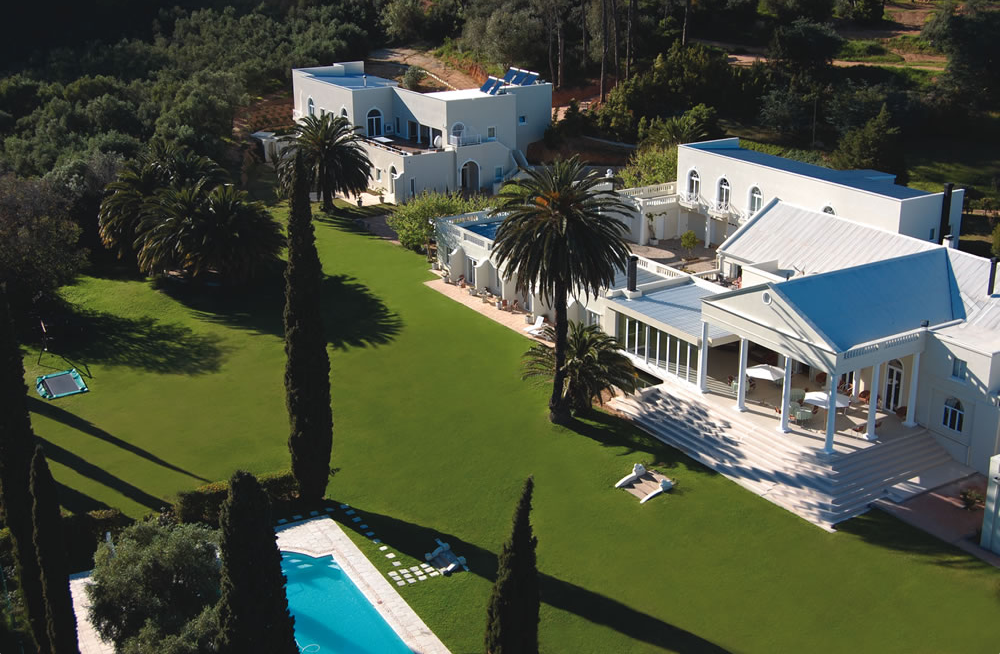 WINELANDS (PAARL): Cascade Country Manor
Set against the backdrop of the Klein Drakenstein Mountains, the 4-Star Cascade Country Manor offers guests authentic country-style hospitality in 15 upmarket rooms. Known for its world-class service, the venue boasts an extensive range of luxury amenities including an on-site spa, outdoor swimming pool and wifi. Olive groves surround the manor house, providing gorgeous landscapes and exciting in-house cuisine. With locally sourced and fresh ingredients, the dining is an experience in itself. Within the estate's vicinity, there's something for everyone: from championship golf courses, museums and a close promimity to Ashia Cheetah Sanxctuary, Drakenstein Lion Park, and a myriad of wine estates, the Cascade Country Manor has something for everyone.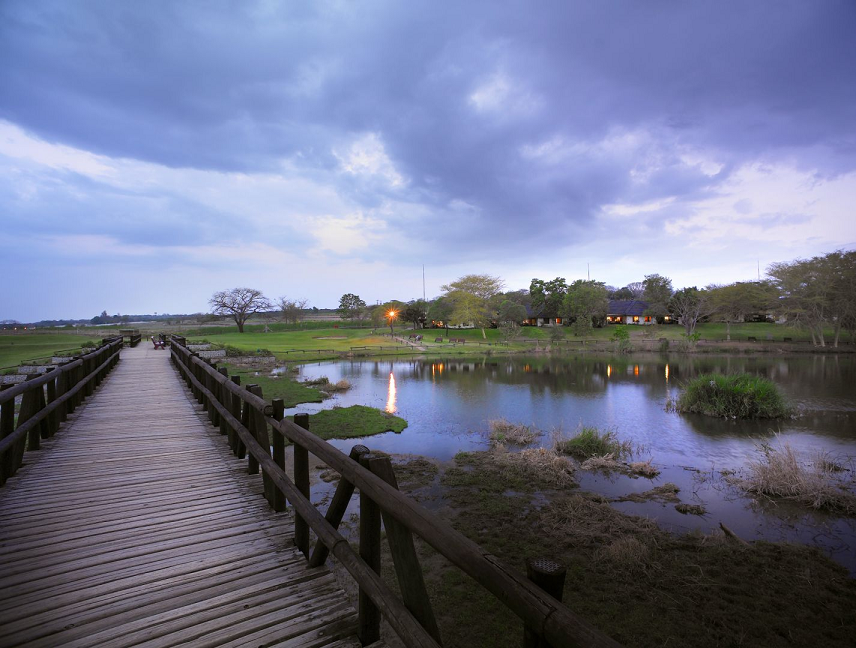 KRUGER NATIONAL PARK: Sabi River Sun
Comfortable accommodation enhanced by spectacular views, a rich heritage and abundant wildlife combine to create a stay that is unforgettable. In addition to its natural splendour and nearby safari opportunities, the resort offers guests an 18-hole golf course and recreational facilities. The spa offers an opportunity unwind in an atmosphere of bliss and privacy, with a range of exclusive rejuvenating treatments.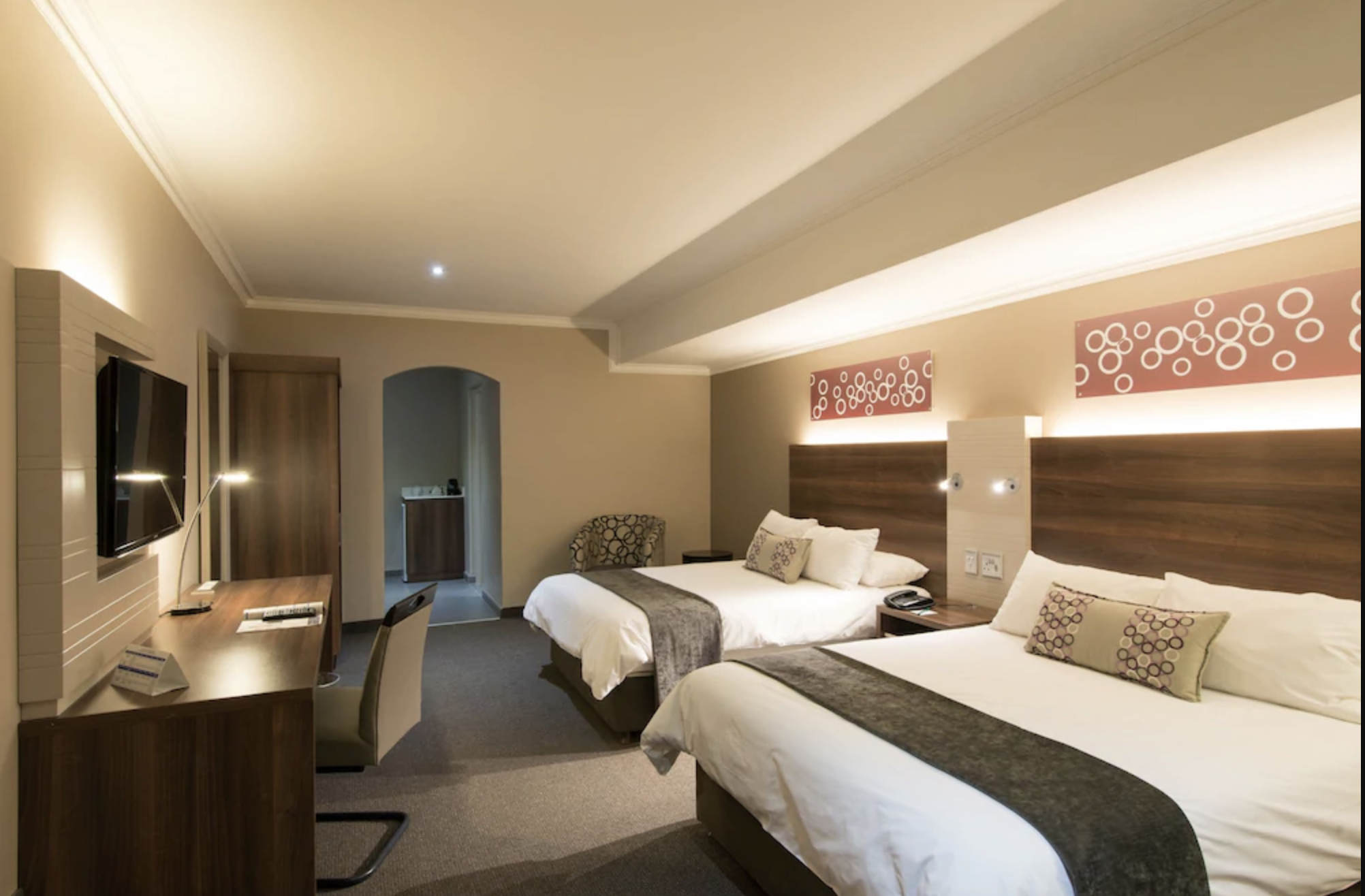 JOHANNESBURG: Silverbirch Hotel
The modern façade of this Johannesburg hotel is complimented by its pool and its two upscale restaurants. The perk of this property is its location at Johannesburg's international airport, making your departure from South Africa quick and easy. Simple, colorful rooms offer flat-screen televsion viewing, desks, safes.
*Please note that due to availability, these exact hotels may not all be available during all Detours trips. However, we will always replace these with similar hotels, and will never downgrade.
What's included? • All taxes • All group transport between itinerary destinations • Accommodations for your 12-day Detours experience • Domestic airfare between Cape Town and Kruger National Park • Full day wildlife safari through Kruger National Park • Full day wine hop-on/hop-off wine tour in the Winelands • 3-course dinner with local family in Cape Town • All breakfasts • Bo Kaap neighborhood tour with local guide • Knowledgeable and fun Detours leader •
What isn't included? • Meals and drinks outside of those listed above • Activities outside of the those listed above • International Airfare • Arrival/Departure airport transfers • Optional gratuities •
Additional spending budget? Your big-ticket items are included through the trip, but you'll want to budget for additional spending such as additional meals, drinks, shopping, activities, etc. These costs can vary dramatically with differing personal habits but we suggest expecting to spend an additional $600 USD at the lower end for the more budget-conscious and $1100 USD at the higher end for the splurgers. We suggest arriving to South Africa with approximately 4,000 local South African Rand.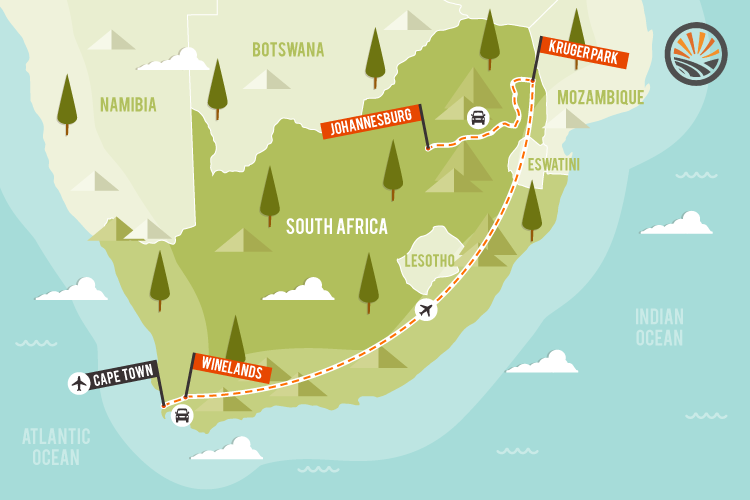 Register Now
with a $500 USD deposit