We use cookies
By using this website, you agree to our use of cookies. We use cookies to provide you with a great experience and to help our website run effectively.
Learn more
Got it
2022: 12 Days in Costa Rica
Leave your stress at home, because it's not welcome here!
Leave your stress at home, because it's not welcome here! Costa Rica is where the word paradise was meant for. It's one of the most biologically diverse places in the world with dense jungles full of monkeys, sloths, reptiles and other tropical life, reaching out onto stunning white sand beaches. Nature is perfectly paired with adventure in this tiny Central American country and gives its visitors an unlimited number of opportunities to get as active, or as relaxed as you like! Soak away an afternoon in a hidden hot springs waterfall oasis, zipline through the thick jungle on one of the world's longest ziplines, take a surfing lesson from a local Tico, hike onto the hardened lava flow of an active volcano, or surround yourself with wild spider monkeys, the once-in-a-lifetime opportunities are endless!

Costa Rica is also known as the most gay-friendly country in Central America, with a lively gay social scene in San Jose and Manuel Antonio, and some of the friendliest local Latin people you could ever meet! This is a true Latin experience from the people, to the Salsa dancing, to the Gallo Pinto for breakfast.

Our 12-day trip has been designed to maximize your experience here and have you begging to stay forever! Instead of rushing around in a panic trying to visit as many places as possible, we've specially chosen three locations, plus San Jose that we know you'll fall in love with. How are we so sure? Well, we've tirelessly tested out beaches, bars, bungalows and bit of booze just to make sure we can bring you the cream of the crop. We genuinely love Costa Rica and can't wait to share this paradise with you!
Looking for 2023 Costa Rica trips? Click here.
We don't like staying in smelly shacks on our vacations and we're pretty sure you don't either! You work hard to go on vacation and we believe you deserve an enjoyable, comfortable place to wind down at the end of each day. We put a LOT of time into finding the perfect accommodation for your trip. After rigorous wifi signal testing, fluffing pillows, and taking a shower or two, we've narrowed down our favorite properties. Check out our approved accommodation to see where we've stayed in the past and where we'll likely be staying on your trip.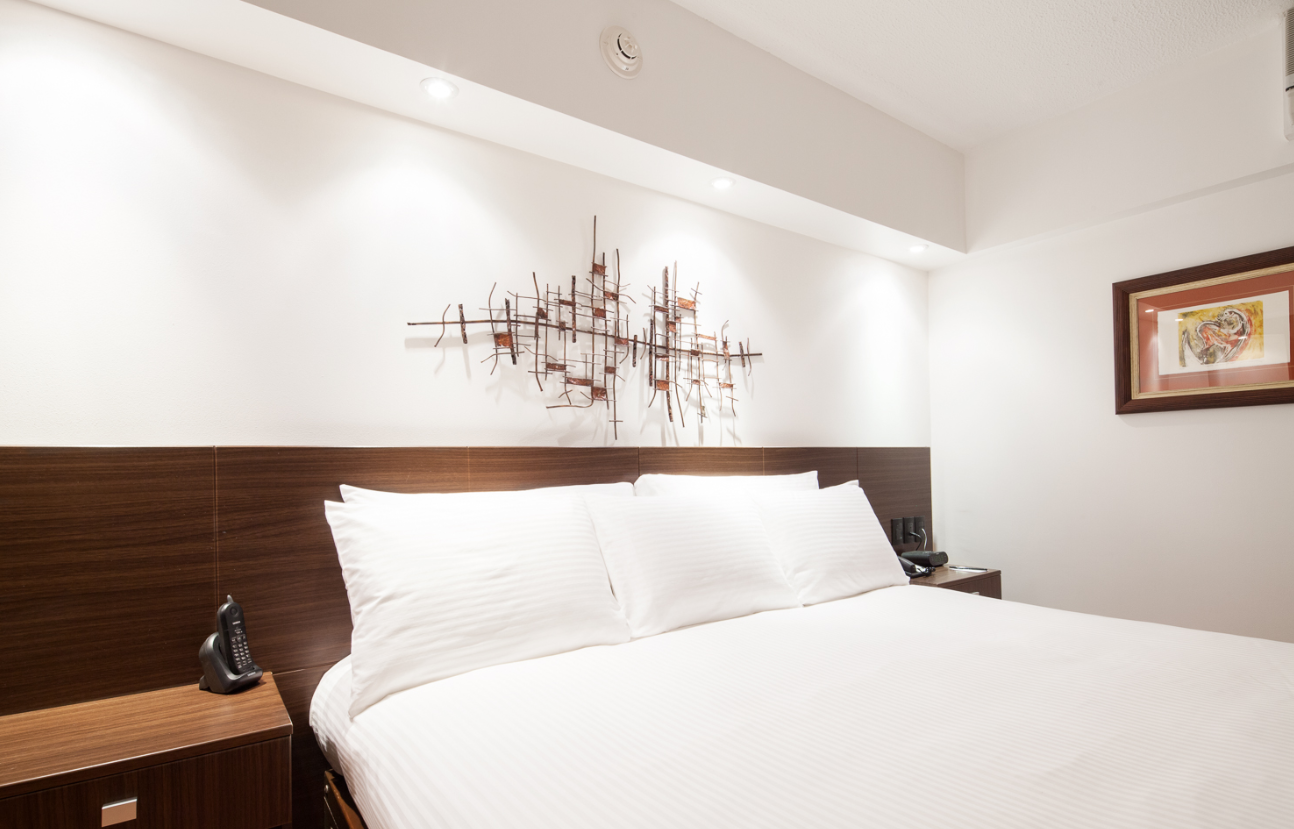 SAN JOSE: Presidente Hotel
The Presidente Hotel is centrally located in the heart of San Jose, providing walkable opportunities everywhere you turn. This hotel provides a delicious a la carte breakfast and a fantastic rooftop restaurant/bar. Situated steps from San Jose's main pedestrian street, you'll find shops and restuarants minutes away.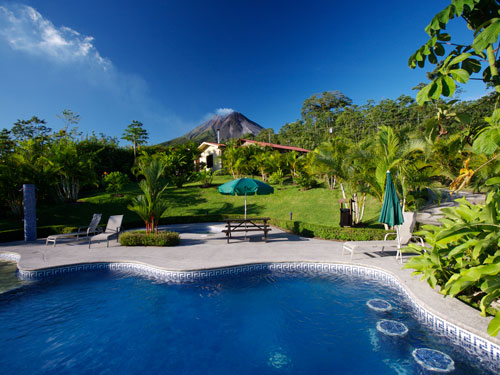 LA FORTUNA: Arenal Manoa & Hot Springs
This property features the Arenal Volcano front and centre - there's a view of it from every room! A locally-owned and comfortable location accomodates travelers with a relaxing natural hot springs-fed pool. The ground of this property are beautiful, the views are unforgettable, and the mood is oh so relaxing.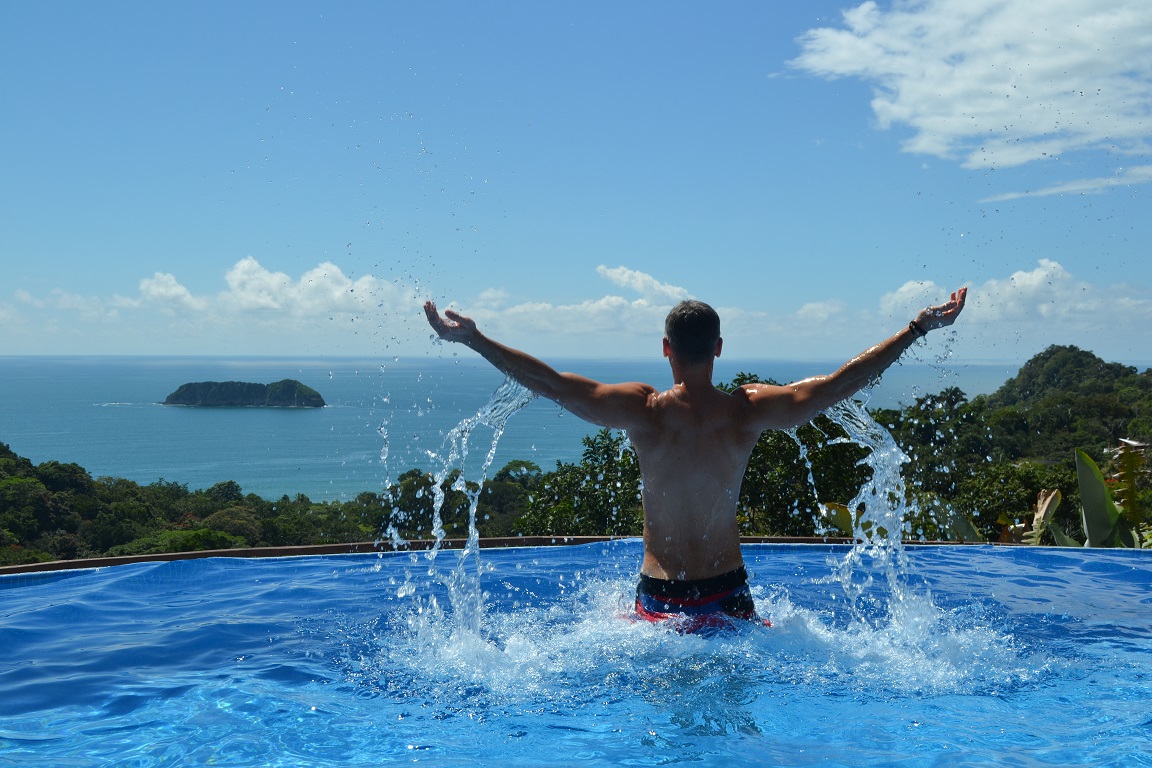 MANUEL ANTONIO: Villa Roca
Manuel Antonio's well-known LGBT-only hotel is the perfect base for enjoying Manuel Antonio. With a fantastic swimming pool and jacuzzi perched on the cliff over the Pacific Ocean, a great daily happy hour, and only minutes to the beautiful Manuel Antonio beach, you're going to love staying at Villa Roca.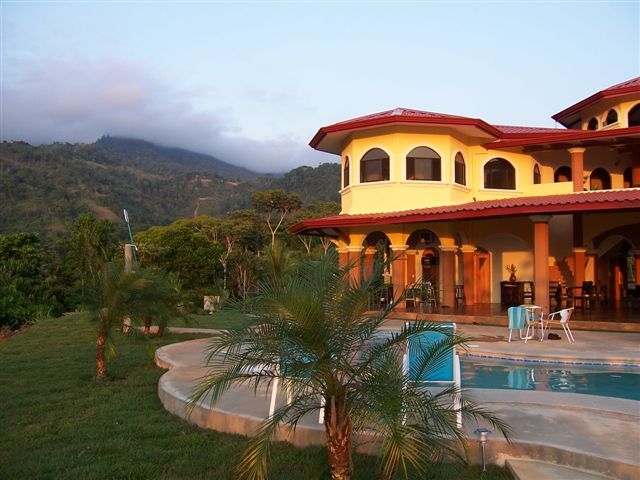 LAS AGUAS: Villa Los Aires
During our time in Las Aguas, we book a private villa exclusively for our group. This gay owned and operated property is set on 60 acres of jungle and has five waterfalls on the grounds. Features include an outdoor pool and jacuzzi, an exercise facility, a cafe with espresso bar, and a cinema.
*Please note that due to availability, these exact hotels may not all be available during all Detours trips. However, we will always replace these with similar hotels, and will never downgrade.
What's included? • All taxes • All group transport between itinerary destinations • Accommodations for your 12-day Detours experience • All full breakfasts • Manuel Antonio Park access and guided tour • La Fortuna waterfall access and hike • Hot springs visit in La Fortuna • Knowledgeable and fun Detours trip leader •
What isn't included? • Meals and drinks outside of those listed above • Activities outside of the those listed above • International Airfare • Arrival/Departure airport transfers • Optional gratuities •
Additional spending budget? Your big-ticket items are included through the trip, but you'll want to budget for additional spending such as additional meals, drinks, shopping, activities, etc. These costs can vary dramatically with differing personal habits but we suggest expecting to spend an additional $600 USD at the lower end for the more budget-conscious and $1000 USD at the higher end for the splurgers. We suggest arriving to Costa Rica with approximately 200,000 local Costa Rican Colones.
Register Now
with a $500 USD deposit