We use cookies
By using this website, you agree to our use of cookies. We use cookies to provide you with a great experience and to help our website run effectively.
Learn more
Got it
10 Days in Israel & Jordan
Cosmopolitan cafes lining beautiful white sand beaches, the giant golden dome of a local shrine rising over homes clad in Jerusalem stone, a 5th century masterpiece rising out of the Jordanian desert... these 10 days in Israel & Jordan bring us into the middle of a region of fascinating contradictions. At any given time you may find yourself on camelback riding through the desert, reading a newspaper while you float weightlessly in the Dead Sea, sprawled out under the sun at the gay beach full of locals, exploring one of countless world-class museums, or taking in the unique culture and traditions on display through the streets of this Middle Eastern region. As gay travelers, this trip gives us the ability to take in the Middle East while enjoying the comfort of a relatively gay welcoming community. We'll immerse ourselves into the thriving LGBT scene, sleep under the stars in a remote desert camp (don't worry, you'll have private en-suite bathrooms and all amenities too!), hike around the clifftop fortress of Masada among many more unforgettable experiences.
The relatively small size of the countries means travel distances are mostly very short, allowing us to maximize our time spent exploring, adventuring, and experiencing this complex and unique part of the world! From the lowest point on Earth at the Dead Sea to the vast deserts of Jordan, and the streets of Jerusalem overflowing with history your days here are sure to be unforgettable.
NOTE: Our June trips are our 'Pride edition'. These trips spend Tel Aviv Pride weekend in Tel Aviv.
We don't like staying in smelly shacks on our vacations and we're pretty sure you don't either! You work hard to go on vacation and we believe you deserve an enjoyable, comfortable place to wind down at the end of each day. We put a LOT of time into finding the perfect accommodation for your trip. After rigorous wifi signal testing, fluffing pillows, and taking a shower or two, we've narrowed down our favorite properties. Check out our approved accommodation to see where we've stayed in the past and where we'll likely be staying on your trip.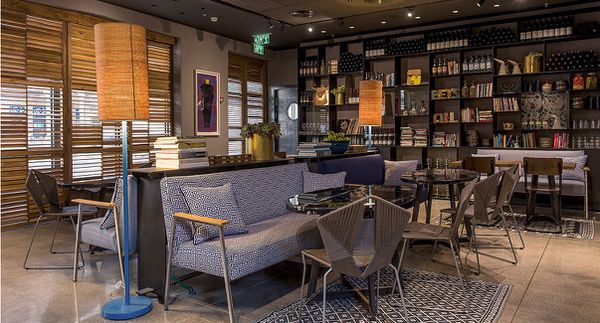 JERUSALEM: Bezalel Hotel
Right in the heart of Jerusalem in the Nachalot neighborhood, and within walking distance of the Mahane Yehuda market, is the Bezalel Hotel. Decorated with Israeli art and designs which embody the contemporary soul of Tel Aviv, each room features with free wifi, flat-screen TVs, minifridges and safes, as well as tea and coffeemakers.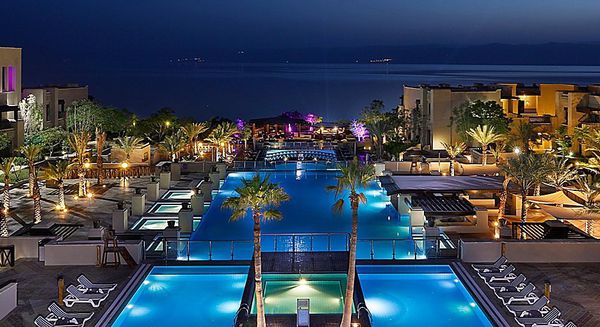 DEAD SEA: Holiday Inn Resort Dead Sea
Three palm-fringed, heated pools link the Dead Sea with the sand-colored hotel, making this a water lover's paradise. Watch the horizon from the infinity pool or sip a cocktail at Dive Inn Bar. Swim out to Jacuzzi island and forget the outside world – or stay in touch using complimentary, high-speed wifi. Luxurious massages and facial treatments in Shape Up spa use natural Dead Sea products and two restaurants on site if you get hungry. Each room has smart TVs, safes and minifridges, plus tea and coffeemakers.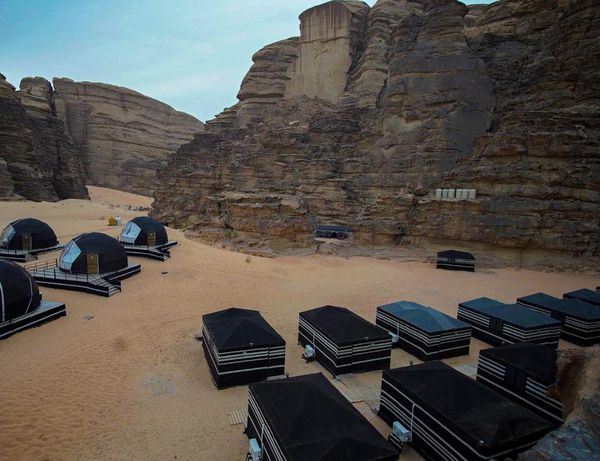 WADI RUM: Aladdin Camp
Deep in the awe-inspring Wadi Rum Desert sits this beautiful modern campsite that likes to blend the authentic Bedouin feel with contemperary amenities. The main luxury tent offers buffet or continental breakfast along with a full restaurant featuring local cuisine and the camp grounds have common spaces to enjoy the desert in comfort. Each tent is air-conditioned, en-suite bathroom with complimentary toiletries.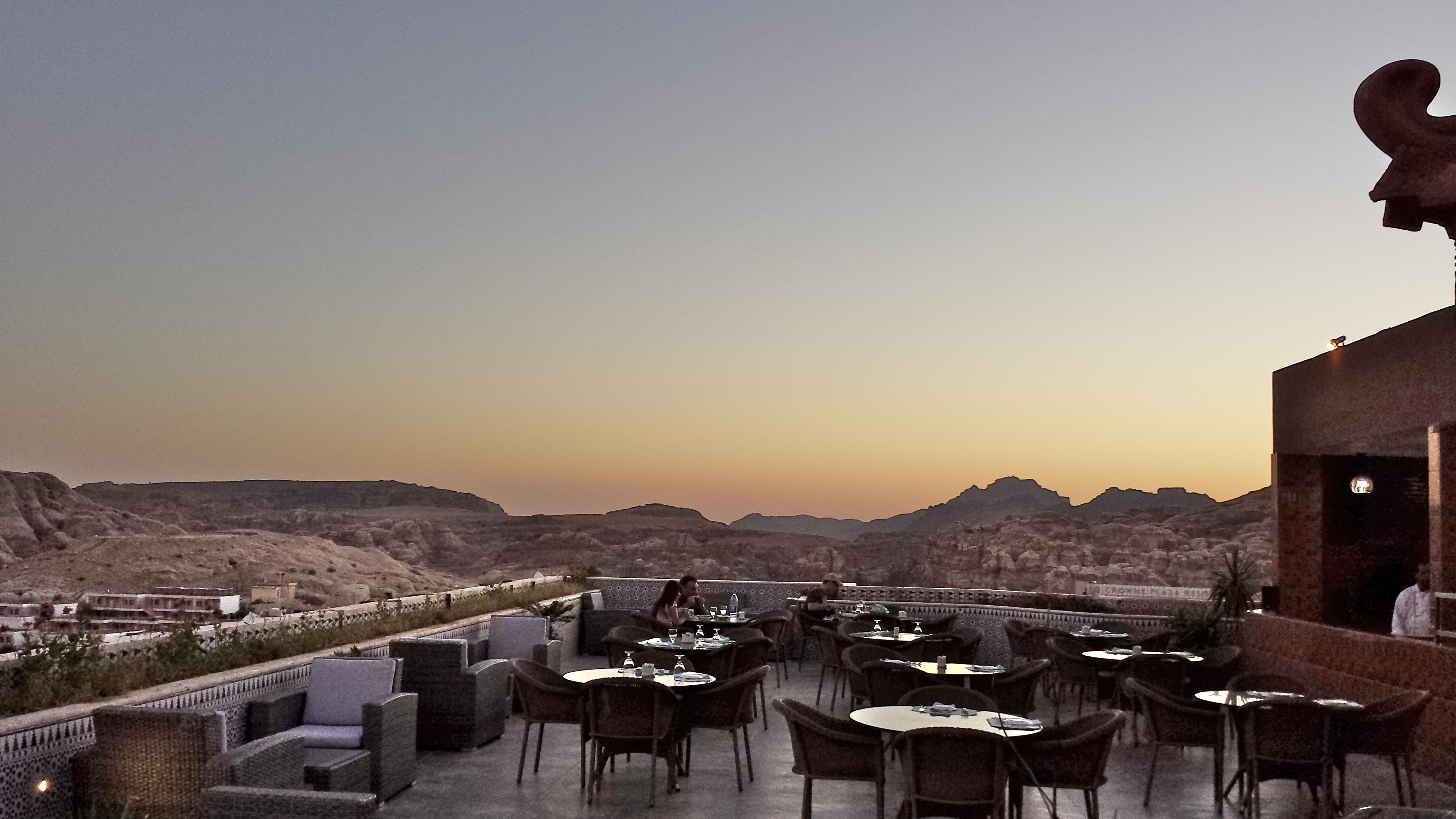 PETRA: Old Village Resort
Set in a stone building, this homey hotel is 3 km from the archaeological site of Petra. The cozy, relaxed rooms come with free Wi-Fi and flat-screen TVs, plus room service, minibars, and tea and coffeemakers. Other amenities include an indoor pool, a sauna, a terrace and a business center, plus barbecue facilities.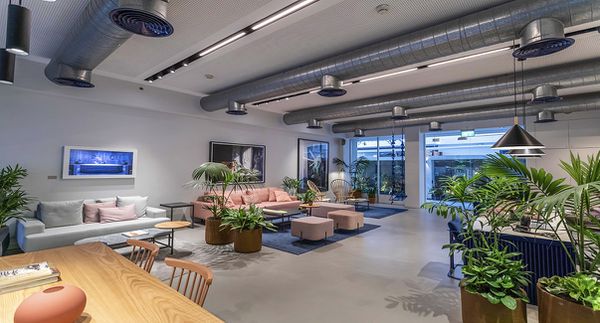 TEL AVIV: Artist Hotel
Set within steps of Tel Aviv's famous beaches, this trendy hotel is a 15-minute walk to the vibrant Carmel Market and gay district. This stylish hotel features artwork from the Doron Sebbag Art Collection as well as artwork from local talented artists. Each room has free wifi, smart TVs, plus tea and coffeemakers.
*Please note that due to availability, these exact hotels may not all be available during all Detours trips. However, we will always replace these with similar hotels, and will never downgrade.
What's included? • All taxes • All group transport between itinerary destinations • Accommodations for your 10-day Detours experience • All full breakfasts • Domestic flight between Eilat (Southern Israel) and Tel Aviv • Guided visit to the ancient ruins of Petra • Camel ride through the desert in southern Jordan • Guided visit to Masada • 4 hour 4X4 Jeep desert exploring • Walking tours with local gay-friendly guide in Jerusalem and Tel Aviv • Welcome dinner and drinks • Knowledgeable and fun Detours trip leader •
What isn't included? • Meals and drinks outside of those listed above • Activities outside of the those listed above • International Airfare • Jordanian visa-on-arrival (30 Jordanian Dinars as of June 2023) • Israel exit tax (190 Israeli Shekels as of June 2023) • Arrival/departure airport transfers • Optional gratuities •
Additional spending budget? Your big-ticket items are included through the trip, but you'll want to budget for additional spending such as additional meals, drinks, shopping, activities, etc. These costs can vary dramatically with differing personal habits but we suggest expecting to spend an additional $750 USD at the lower end for the more budget-conscious and $1200 USD at the higher end for the splurgers. We suggest arriving to Israel with approximately 1,000 local Israeli Shekels and 100 Jordanian Dinars.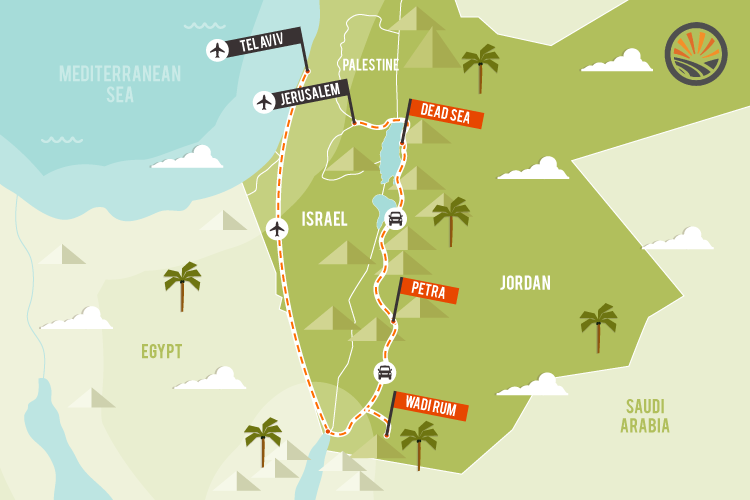 Register Now
with a $500 USD deposit