We use cookies
By using this website, you agree to our use of cookies. We use cookies to provide you with a great experience and to help our website run effectively.
Learn more
Got it
10 Days in Central Europe
Our favorite European capital cities all together in one trip! From the majestic riverside city of Budapest with its thermal springs and castles, to the old-world charm of Prague's narrow alleyways and cathedrals, before finishing up in the modern uber-gay Berlin, jam-packed with history. As some of the world's gay "must visit" hotspots, these cities make it easy to balance out some day time scenic exploring with night time fun. Uncover this region's lively history, soak in outdoor hot springs, take in the views by train alongside the Elbe & Vlatava rivers, hike to the hilltop castles, and much more in these 10 days through the heart of Europe.
The charming streets, fascinating museums, and impressive architecture are some of the highlights of this trip, making it a city-focused active trip with plenty of walking involved.
Days 1, 2, and 3 - BUDAPEST
Budapest is a visually stunning city with impressive castles sprinkled around the city, unique streets full of charm of a long ago era, and even natural outdoor hot pools too. We'll start our trip together here at 4:00pm on day 1 and head out onto the river for a 4-course dinner cruise complete with music and all the best riverfront scenery. It's the best vantage point to see the Buda Castle, Chain Bridge, and Hungarian Parliament all lit up. The next morning we'll be joined by a local guide who will take us on a walking tour of the city's highlights before leaving us to explore the city on our own, whether you're into the hot springs, exploring castles, jumping on the hop-on-hop-off bus tour of the city, or taking in the old town sights. At night, Budapest has many different nightlife options including lots of gay bars, clubs, and saunas too.
Included Activities: Dinner cruise on the Danube River • 3-hour walking tour of Budapest
Optional Activities: Szechenyi baths • House of Terror Museum • Wine, cheese, and charcuterie tasting • Ruin bar walk
Days 4, 5, and 6 - PRAGUE
On Day 4 we'll take a 1 hour flight from Hungary to our next country on the trip, Czech Republic. Prague has long been known as a city of beauty, and one of Europe's favorite nightlife cities too! It's famous for it's old town full of history, and as a lively city where everyone is out in the streets throughout the day, socializing over a pint or coffee. Our local gay-friendly guide here will take us to their favorite spots around the city to make sure we're all set up to enjoy the city both during the day and night. At night the city stays very alive as it lives up to its reputation for fun into the wee hours. We're here for 3 nights of exploring and fun together before continuing north to our 3rd country of the trip!
Included Activities: 3-hour walking tour of Prague
Optional Activities: Ghost & Legends of old town walking tour • Prague Castle • Petrin Lookout Tower • Beer Spa • Prague National Museum • Classical/black light shows
Days 7, 8, 9, and 10 - BERLIN
On day 7 of the trip we'll hop on a 4.5 hour train across the European countryside, past the Elbe & Vlatava rivers to our final stop of the trip - Berlin! Berlin itself has a tonne of history going back thousands of years and even into modern times and it's all on display in this city that's also know as one of the world's gay hotspots. The culture of the city can be found in the many impressive museums, galleries, nightlife, and even just wandering the streets. After 3 days of exploring the day and night life that Berlin has to offer, our trip comes to an end on the 10th day but if your schedule allows, consider staying a bit longer in this part of Europe to experience even more!
Included Activities: Hop-on Hop-off Bus (2 day pass)
Optional Activities: Berlin Memorial • Museum Island • Memorial to the murdered Jews of Europe
We don't like staying in smelly shacks on our vacations and we're pretty sure you don't either! You work hard to go on vacation and we believe you deserve an enjoyable, comfortable place to wind down at the end of each day. We put a LOT of time into finding the perfect accommodation for your trip. After rigorous wifi signal testing, fluffing pillows, and taking a shower or two, we've narrowed down our favorite properties. Check out our approved accommodation to see where we've stayed in the past and where we'll likely be staying on your trip.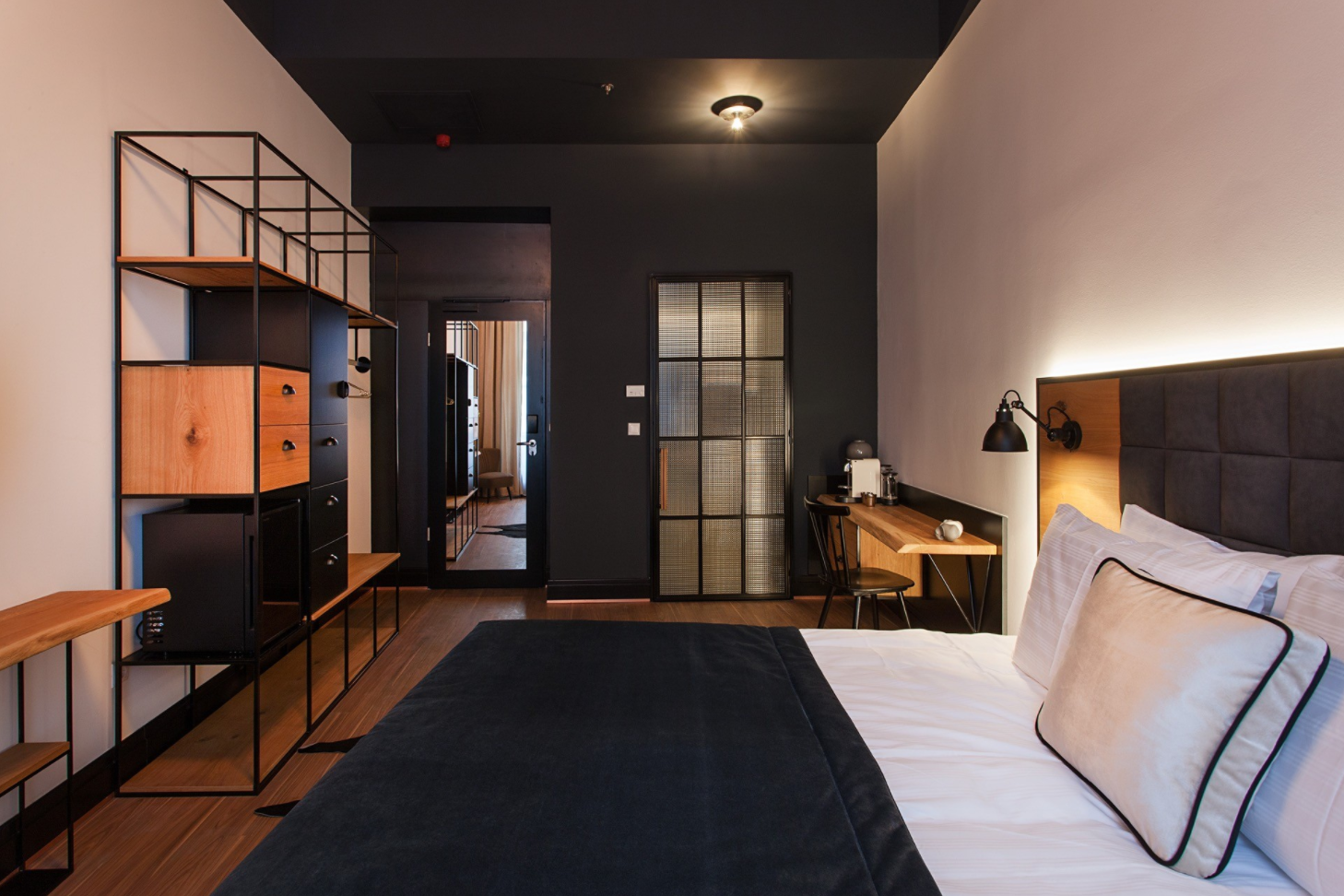 BUDAPEST: Hotel Rum
This amazing hotel is smack in the middle of the best part of the city. It was newly reopened from renovations in 2017 and results are extraordinary. The contrast having modern comforts surrounded by centuries of history creates a feeling of home in a city full of wonder.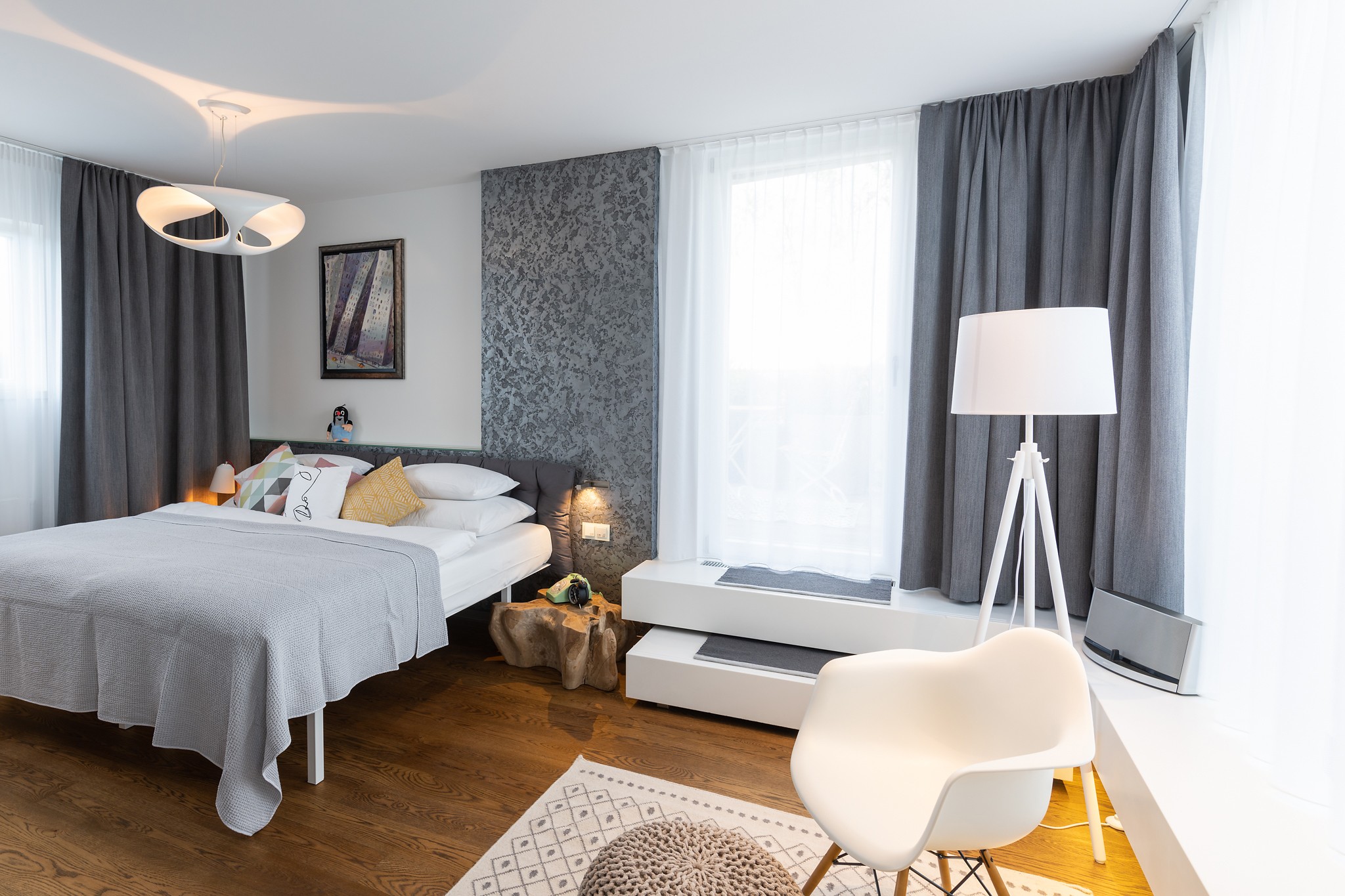 PRAGUE: Mosaic House Hotel
Once again centrally located for exploration (both at night and day), Mosaic House Design Hotel is a stylish hotel with striking design & artistic elements, and houses a cafe in a former theatre hall, a library, and a courtyard garden, and indoor/outdoor art installations.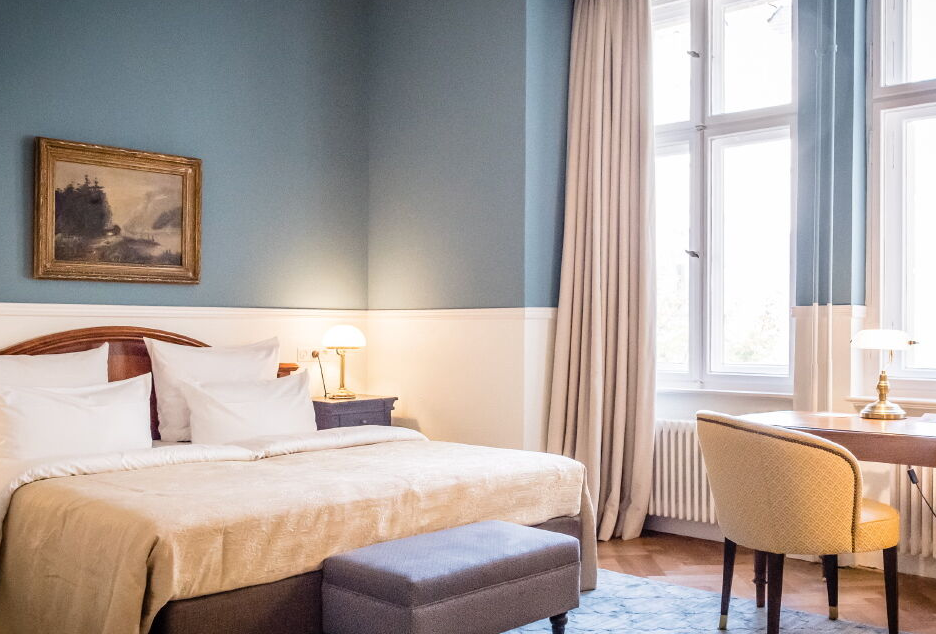 BERLIN: Henri Hotel
Located in the heart of Berlin Kurfurstendamm, in the middle of the former west of the city, in a side street to famous Ku'damm. It was always a melting pot of urban life, a cross between an urban boulevard and a Bohemian neighbourhood. A shopping area with luxury outlets and small, exclusive boutiques jostle happily here with restaurants, bars, music clubs and theatres.
*Please note that due to availability, these exact hotels may not all be available during all Detours trips. However, we will always replace these with similar hotels, and will never downgrade.
What's included? • All Taxes • All group transport between itinerary destinations • Intra-Europe flight from Budapest to Prague • Train travel from Prague to Berlin • Accommodations for your 10-day Detours experience • Two 3-hour guided walking tour: in Budapest and Prague • 48hr hop-on-hop-off bus pass in Berlin • All full breakfasts • Welcome dinner and drinks • Knowledgeable and fun Detours leader •
What isn't included? • Meals and drinks outside of those listed above • Activities outside of the those listed above • International Airfare • Arrival/departure airport transfers • Optional gratuities
Additional spending budget? Your big-ticket items are included through the trip, but you'll want to budget for additional spending such as additional meals, drinks, shopping, activities, etc. These costs can vary dramatically with differing personal habits but we suggest expecting to spend an additional $800 USD at the lower end for the more budget-conscious and $1200 USD at the higher end for the splurgers. While there are many ATMs available, we suggest arriving to Budapest with approximately 80,000 Hungarian Forint (approx $200 USD) for those places that don't accept credit cards.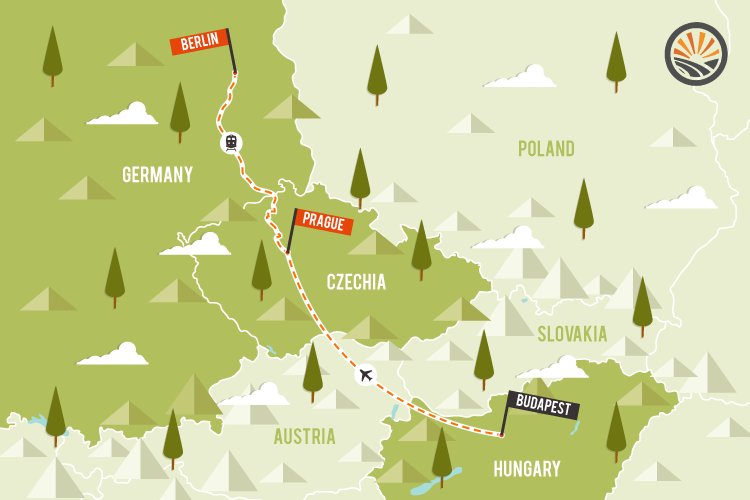 Register Now
with a $500 USD deposit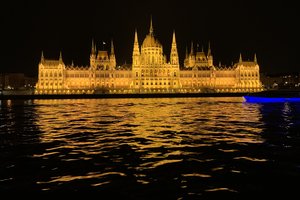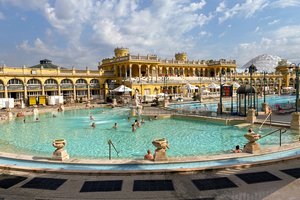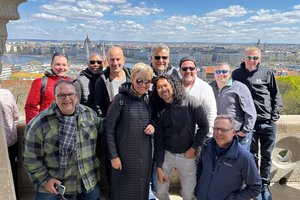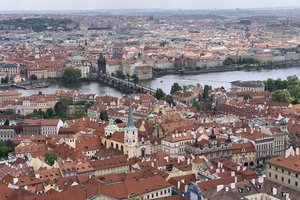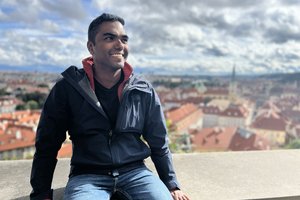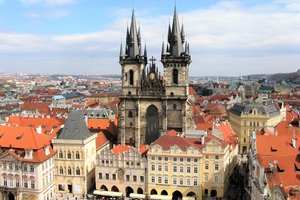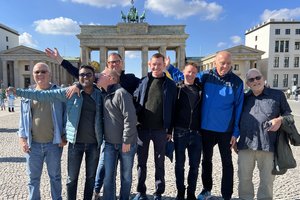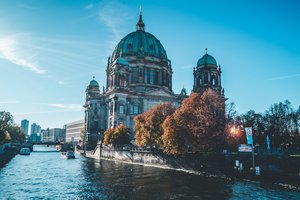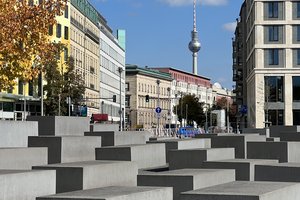 ←
→
Carl L. - USA
October 7, 2022
This was an excellent trip from beginning to end. We saw a lot and the venues chosen from hotels to restaurants to sites were perfect. I especially loved the walking tours. The people were easy to get along with and fun. Brandon, the tour guy did a great job. I highly recommend Detours, especially if you just want to show up and not do a lot of pre-planning. The trip was a great value for the price. Bravo Detours.
Rick H. - USA
October 8, 2022
Just completed my first trip with Detours -- 10 days in Central Europe... outstanding! Nicely designed itinerary, great hotels, great restaurants. Very professional organization.

Our group was 16 plus our trip leader Brandon (more about him below), a mixture of singles and couples. We quickly developed a nice comraderie, and looked out for one another. Whether you're single or coupled, you'll feel at home.

The daily schedule has some suggested outings, but you can always do whatever appeals to you. Our trip leader was ready to make recommendations, reservations, facilitate transportation, etc. whether for an individual or a small group. There was always a suggested restaurant for the group dinner (perfect for me), but after the first night some others branched out.

Excellent intergroup communication via the WhatsApp group chat. For example, trip leader Brandon would outline the next day's suggested plans in person, and then follow up in writing, with mapping. It was easy to ask questions, and stay plugged in to the rest of the group.

About Brandon, our impressive trip leader: outgoing, genuine, always a smile, checked in with all of us individually on a regular basis & listened, Quick to respond and make adjustments, e.g. a later start time for the following morning's tour, when a couple of us mentioned it. Perfect for the job.

So if you're thinking about gay travel with a small group, cast away your doubts -- Detours is the way to go!
Fred A. - USA
May 25, 2022
I just cannot say enough good things about Detours Travel - This was the third Trip- Central Europe this time May '22 and I just enjoyed it so much. From the wicked funny tour guide in Budapest, to the amazing vistas of Prague - and the camaradery and Fun-loving natures of the group participants, it is hard to overstate how a Detours trip recharges me, removing workaday world and dropping the group into fun, education and even magical places. Detours Leader Dan is the best and masterfully handles all problems, with resilient energy and boundless good humor.